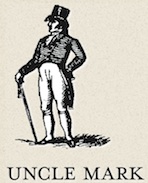 I'm happy to announce the new 2014 Uncle Mark gift guide and almanac: download the free PDF. Gift ideas and life tips abound in this 11th annual guide.
Please share this year's guide, if you agree with my suggestions: share on Facebook, or tweet it.
Topics include my favorite books of the year, videogame systems, gifts for kids, and how to learn Chinese. Download it, read it, and enjoy!
P.S. Apropos of nothing, here are the three fun links I included in today's email newsletter (sign up for the email newsletter here):
• Picard's shirt-tugging maneuver. In the future, we all tug shirts.