Facebook's laughable response to the whistleblower

Hi again, Creative Good friends. I know I just wrote you two days ago (Get your community organization off of Facebook) – but we need to discuss the stunning lack of defense that Facebook has shown since the whistleblower's Senate testimony. Also, things have been so gloomy, I wanted to share some amusing memes below.
To repeat: if you scroll down, you will see memes. I want this newsletter (occasionally!) to be fun, just as I would like for you to join Creative Good, with this reminder:
C'mon, show your support.
This newsletter isn't free. If you'd like it to continue, please join Creative Good. As a member, you'll gain access to all posts and comments on the members-only Forum.
OK, first to review the news. What's happened so far:
• Sunday: 60 Minutes ran an interview with whistleblower Frances Haugen, who played a key role in the WSJ's Facebook Files (which I wrote about two weeks ago).
• Monday: Facebook, Instagram, and WhatsApp suffered a global outage for several hours. (See below for some of my favorite memes that popped up during that blissful period).
--> Also, on Monday evening, I gave a monologue on Techtonic – a "Howard Beale moment," in the words of WFMU station manager Ken Freedman (referring to the movie Network). You can listen to the whole show or just download the podcast.
• Tuesday: Whistleblower Frances Haugen testified to U.S. Senators about Facebook's harms – to democracy in the U.S., and to teenage girls worldwide – all carried out with the full knowledge and encouragement of Facebook leadership.
And then the aftermath. Haugen's devastating testimony – delivered with clarity and precision – left Facebook no space to maneuver. After all, Haugen made her case by drawing on Facebook's own research, as well as internal documents showing Facebook leaders' approval of the harms.
Facebook immediately responded with a laughably weak defense – which further makes Haugen's case, the same case I've been making for years, that we need to take drastic measures against Facebook. Here's what the trillion-dollar company came up with:
• Zuck wrote that it's "deeply illogical" to suggest that Facebook would "make people angry for profit." The NYT's Cecilia Kang (author of a recent book on Facebook) points out the obvious: hundreds of brands have already boycotted Facebook for exactly that, in the Stop Hate for Profit campaign. Zuck's attempt to dodge, citing an "illogical" argument, is just pathetic.
• An excellent analysis of Zuck's response comes from Brooke Binkowski, who writes:
Hahahahahahahahahahahaha
(Like I said, it's laughable.)
• One other observation about Zuck. Even in the face of inescapable evidence, not only is he not apologizing for the harms he's caused, he's not even acknowledging what he's done. My prediction: at Zuck's upcoming criminal trial(s), all of his pleas will be NOT GUILTY.
• Andy Stone, Facebook's "spokesbro" (as Carole Cadwalladr puts it), did his toxic, bro-y best to discredit Frances Haugen, saying "she has no direct knowledge" of the issues she brought up. You know, the issues described in internal documents, showing Facebook leaders' direct knowledge of the damage they're doing. Just goes to show that the best-paid PR in the world can't lie very well, when the truth is so obvious.
As for my own take: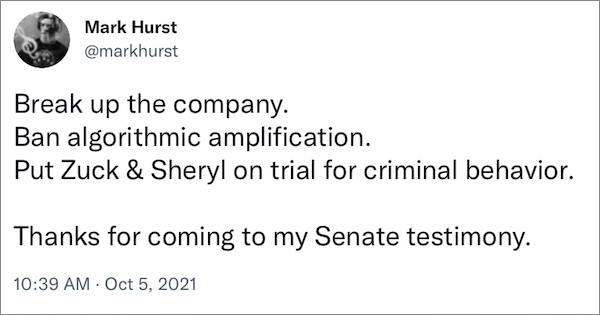 To be less flippant, I'd say that Frances Haugen was courageous, articulate, and spot-on in her diagnosis of the problems at Facebook. However, her prescription was wrong: we don't need more regulation of Facebook, we need to shut it down. (Matt Stoller said as much in his latest: The Facebook Whistleblower Is Heroic... And Terribly Wrong.) Or as Jane Chung posted, "the premise that Facebook can be 'healed' or 'fixed' through a 'truth and reconciliation' process is deeply, deeply flawed."
It's nice to see Facebook finally getting real scrutiny from the media and government. Although I'm hardly alone in this, I've written for years about the central problem of Facebook – algorithmic amplification and a hate-for-profit model – as well as the solution (criminal indictments and handcuffs). Two of my recent pieces are from March (Yes, handcuffs will fit Big Tech CEOs) and just last month (The fall of Facebook).
And the backlash is just starting. Facebook's harms against girls and young women are highlighted by this 2-minute video, "#DeleteZuckerberg," just posted by Don Winslow. (Volume up.)
About the outage
Facebook, Instagram, and WhatsApp were all down for several hours on Monday. Isn't it interesting that it had to do with DNS records disappearing (or, to be more technically accurate, BGP records), just after the whistleblower went public on 60 Minutes? Facebook called it a "configuration change" – but didn't say why the company might have wanted such a change on the worst PR day in company history. As one Twitter user put it:
So they installed a configuration change? Something to do with preventing any other whistleblower from copying data that proves Facebook liability for being a nursery of hate groups, and fomenting insurrection? That "configuration change" then erased the dns?
As I said. Interesting.
Someone even posted a haiku about the outage.
Now, for more humor
I realize that it's been awhile since I sent out some humor updates. Last year I sent several roundups: 1, 2, 3, 4. But with these Facebook revelations, perhaps we could enjoy a few more incisive comments.
Below: Oculus is Facebook's VR platform (in which geeks strap a mind-sucking Zuck-screen onto their face).

Two more humor items to come, after this reminder:
No kidding. Please join.
This newsletter isn't free. If you'd like it to continue, please join Creative Good. As a member, you'll gain access to all posts and comments on the members-only Forum.
What happened when Facebook users arrived en masse on Twitter for a few hours: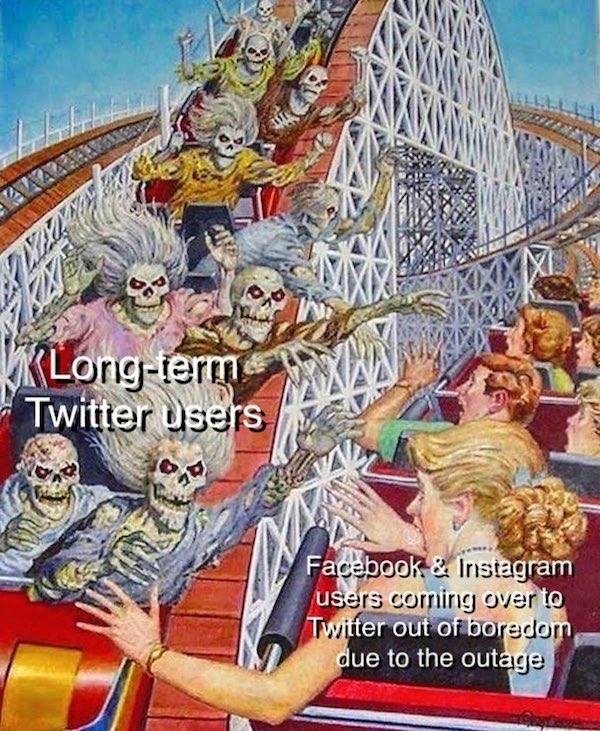 Finally, an homage to 1980s software, from Jess Morrissette: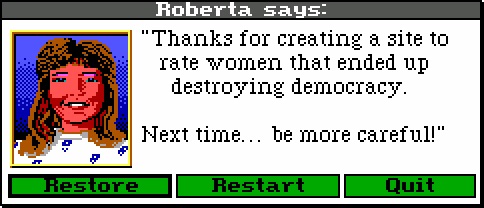 Post a comment on this column (for Creative Good members)
Until next time,
-mark
Mark Hurst, founder, Creative Good – see official announcement and join as a member
Email: mark@creativegood.com
Read my non-toxic tech reviews at Good Reports
Listen to my podcast/radio show: techtonic.fm
Subscribe to my email newsletter
Sign up for my to-do list with privacy built in, Good Todo
Twitter: @markhurst
- – -