Fighting corona with humor

(Update May 1, 2020: See also Take that, corona: more humor to get us through, and July 2, 2020: Humor for a different Fourth.)
For years in my email newsletter I would conclude each newsletter with a Fun Stuff section, containing three or four links to amusing material. Although I haven't run that feature in awhile, recent news is so grim that I thought it might be a good time to focus an entire newsletter on Fun Stuff. (And today on April 1st, when I'd rather not have any pranks, maybe we can at least have some memes.)
I like this sort of response to corona. Not forgetting the danger of the virus, let alone the tragedy of the lives lost to it, people are facing this awful situation with humor, satire, and absurdity.
Here's hoping that you'll enjoy these responses to our current moment.

Music:

I played the first three songs during my Techtonic show this week: you can listen here or jump straight to the first song.

• The song Supercalifragilisticexpialidocious (with new lyrics!), by Daniel Matarazzo

• The song "Corona Virus," recorded in northen Italy by John Toso & Fabio Martoglio

• Raven the Science Maven presents this remix: "Wipe It Down"

• Lyrics for a corona-themed Bohemian Rhapsody


Some memes: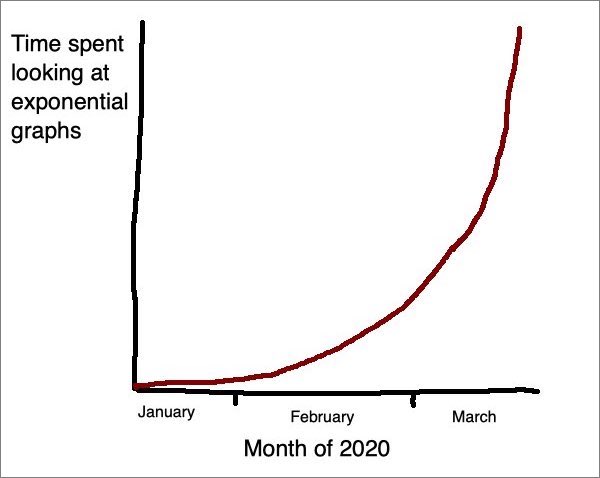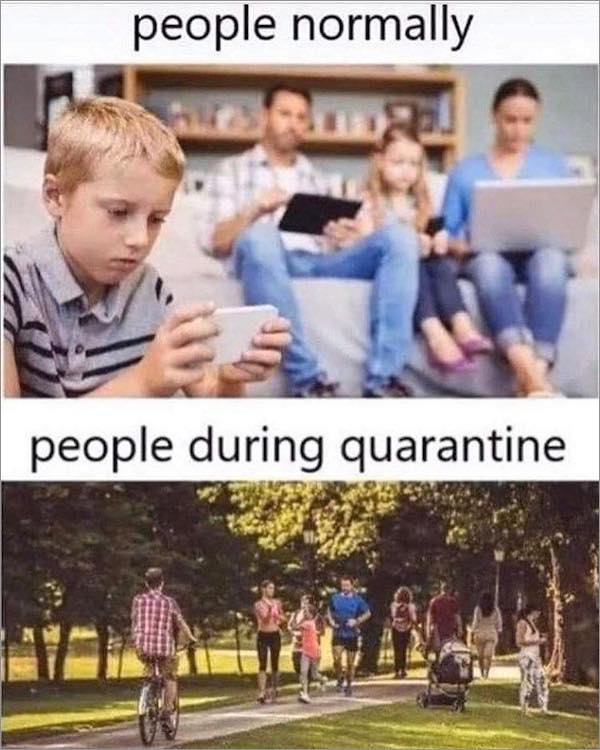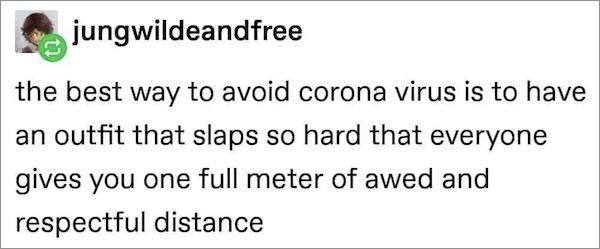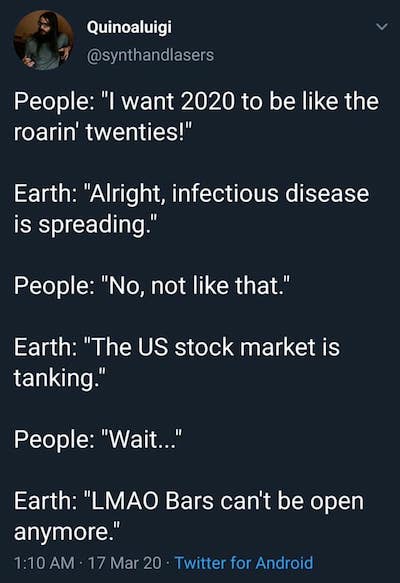 Comedy:

• 57-second comedy set from Patton Oswalt's balcony.

• "I was bored." Sports commentary for dogs.

And two that aren't corona-related, but let's live a little and break the rules:

• "So I was watching those Beyond Belief Fact or Fiction videos and someone in the comments mentioned how if you put it at .5 speed he sounds like a depressed drunk on the sidewalk trying to get your attention, & so I did, and I've been wheezing badly at this for the last 7 minutes"

• Enterprise Nine-Nine trailer for Captain Kirk fans.

Speaking of Captain Kirk, he's under quarantine...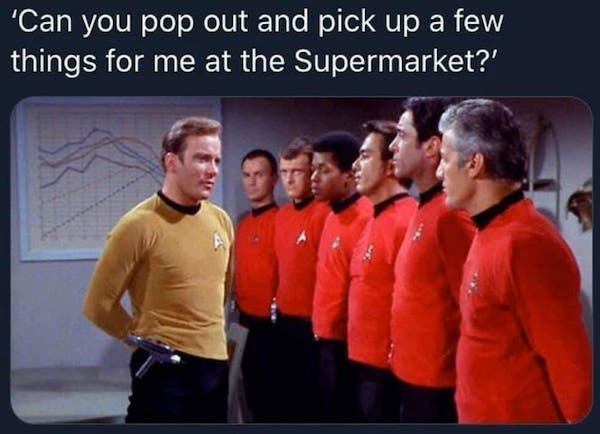 Art memes:

Quarantine has inspired lots of fine art.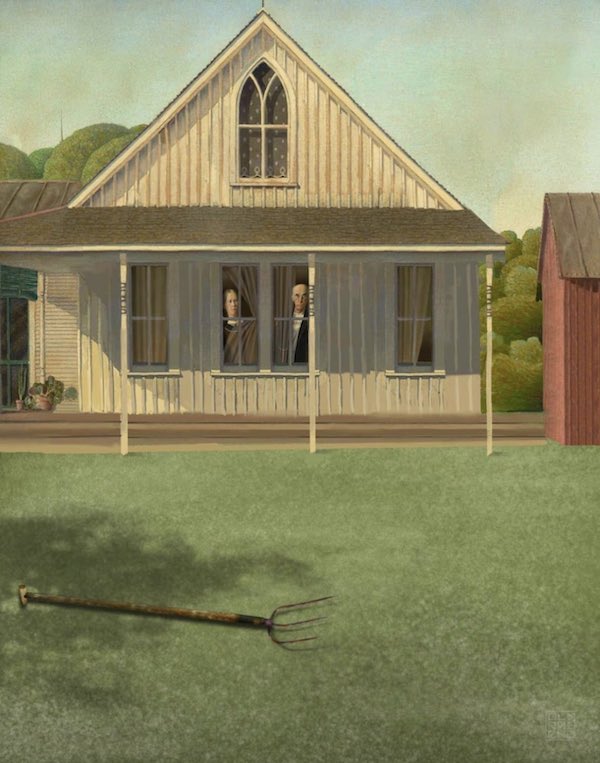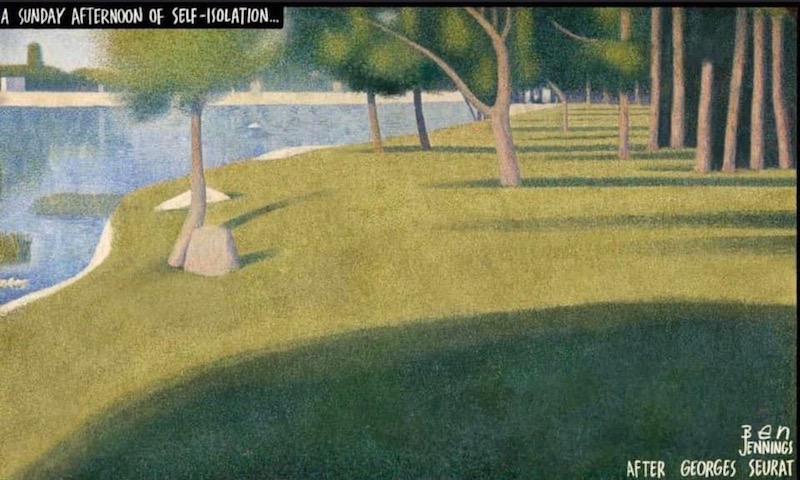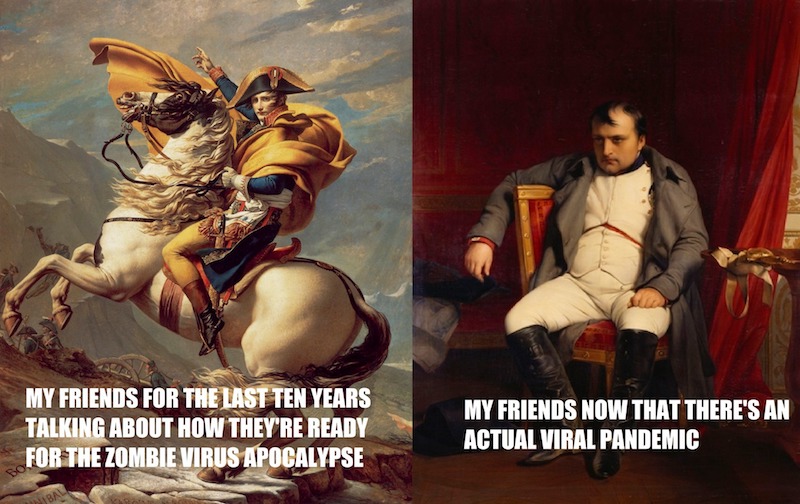 Airline memes:

Reminder that the customer experience really matters. (Read my book Customers Included for more.)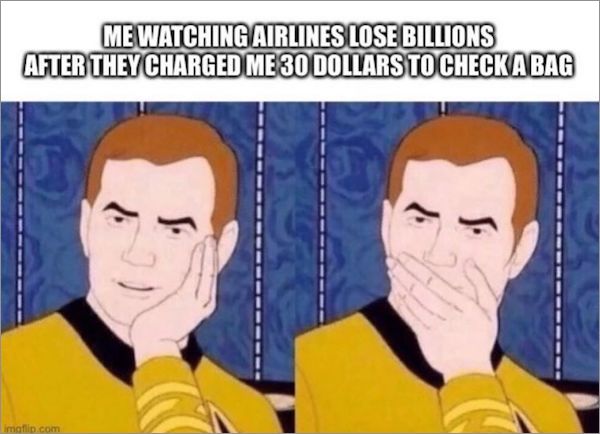 Film:

Looking for something to watch?

• 1,150 free movies online

• The Top 100 Documentaries We Can Use to Change the World


Video games:

• "Quarantine, day 6" turns into a video game.

• Quarantine life looks like a video game.

• Video games looks like quarantine life.

• A video game is now more real than the real-life thing it was supposed to be a virtual version of. Or something like that.

Finally, quarantine for gamers vs. other people: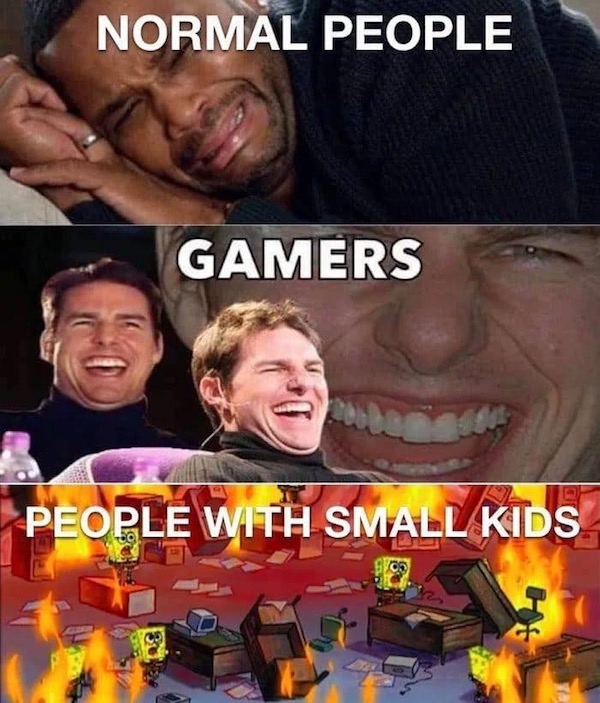 Life tips:

• One guy's daily routine during quarantine - "This is just a general guide for myself based on my goals & what works for me!" Inspirational. Take a look.

• Videoconferencing tip for working from home. Self-explanatory.

• At-home activity: color in this quarantine-themed page.

Quarantine is a new opportunity to get to know your spouse or partner: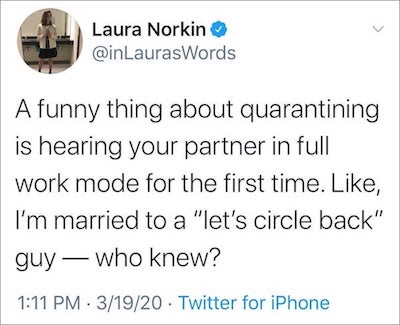 History of epidemics (this part actually isn't funny but is very informative, so check it out):

1. Reviews of history and literature from plagues past.

2. NEJM essay with historical perspective on pandemics & response, both good and bad.


Until next time...
Wash your hands, no matter how annoying it is.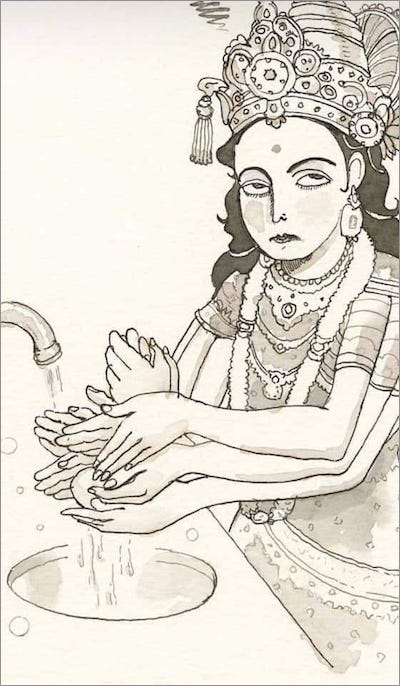 And reach out to Creative Good for any digital-transformation needs during this challenging moment. From user insights, to product strategy, to full-stack development - we're here.
To share this post, paste this in your favorite social media empire:
Fighting corona with humor, from @markhurst -
https://creativegood.com/blog/20/fighting-corona-with-humor.html
Until next time, blessings...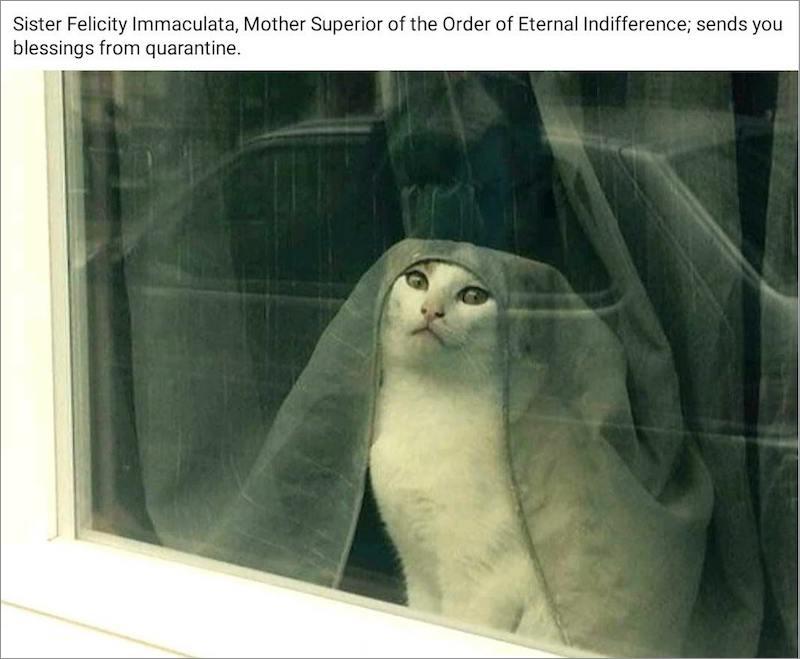 -Mark Hurst
Email: mark@creativegood.com
Twitter: @markhurst
- - -