Celebrating 25 years of this newsletter – and an announcement

I started this email newsletter 25 years ago. I had been writing the Creative Good blog since early 1997 but wanted a way to keep in closer touch with readers. So in September 1998, I emailed out the first "Creative Good Update" to a small group of subscribers. A few weeks later, I sent out the third issue ("Vol. 1, Issue 3"), which is the earliest of the newsletters that I still have on hand. Here's what it looked like: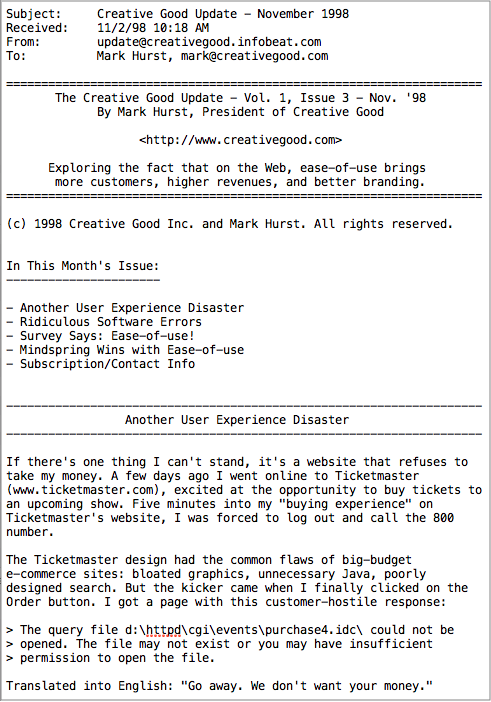 "Another user experience disaster," I wrote, launching into a tirade about Ticketmaster, complaining about "bloated graphics, unnecessary Java, poorly designed search." Further on in the mailing is a complaint about "ridiculous software errors." Sounds like me.
Truly, not a whole lot has changed since then. I'm still frustrated by poorly designed sites and apps, which are just as common as they were in 1998. And I still can't stand user-hostile search. (The worst offender today, of course, is Google.)
Another thing that hasn't changed is that I'm still writing this email newsletter. Week in, week out, I send my thoughts out into the electronic void, hoping they land somewhere with an attentive reader. I've been doing this for 25 years, which makes the Creative Good newsletter one of the longest-running email newsletters in the world. Occasionally readers will email me with comments or news items and mention in passing – hey, I've been reading your messages for over 20 years! It's gratifying and a little sobering to consider how long this project has lasted.
In recent years I have tried to use this newsletter to explain and demystify some of the new developments in tech, while raising the alarm about harmful trends and pushing back on unnecessary hysteria.
Take AI, for example. Two columns – AI is creating the Play-Doh internet (Feb 10, 2023) and AI is spackle (Aug 25, 2023) – offered ways of understanding AI outside the usual utopian or catastrophist discourse. And Is AI a demon or what (Apr 14, 2023) offered some reassurance that AI isn't alive, won't ever be alive, and shouldn't be treated as such.
Big Tech is another frequent theme. How Google profits from criminal activity (Jan 20, 2023) explained how Google's ad business is "effectively one of the largest dark money transfers in the world." What you missed about Google and Amazon (June 1, 2023) highlighted under-reported news about surveillance launched by Big Tech. Why we can't trust Apple (Dec 2, 2022) explored parts of the Apple legacy that are rarely mentioned. And a couple of years ago, Are Facebook and Google criminal enterprises? (Dec 17, 2021) explained how "Facebook is directly fueling the global extinction crisis" for endangered species – and why Google's YouTube is also culpable.
There have been some firsts along the way. The Google Glass feature no one is talking about (Feb 28, 2013) went viral as the first serious pushback to Google's surveillance glasses. (I published it the day after Sergey Brin demoed the glasses at TED.) And in Pumping up the worthless with NFTs (March 12, 2021) I wrote the first explanation, one day after the infamous Beeple art sale, about why NFTs were by definition worthless.
There have been hundreds of other columns, too. You can see all the recent Creative Good newsletters here. I'm hoping, with your support, that I can keep writing, keep explaining, keep clarifying and demystifying. Hence my announcement.
Announcing a new 25% discount
One of the most important moments in the newsletter was, in 2021, the launch of the Creative Good Forum, a members-only platform where we have been discussing the spread of digital technology, and how it's affecting all of us. It's been a rare privilege to have genuinely good discussions online – without spammers or trolls or algorithms or even any ads. The Forum has grown into a spectacular resource where a search on any tech topic – "ChatGPT" or "surveillance" or "antitrust" – yields relevant articles and analysis, as well as comments, by Creative Good members and me. Curated knowledge like this, especially from a tech-critical angle, is not available anywhere else. If you like this newsletter, you really should be on the Forum.
To celebrate 25 years of the Creative Good newsletter, I'm announcing a 25% discount to Creative Good membership. This is a limited-time offer, so sign up soon. The more members there are in the Creative Good community, the better this resource will become for all of us. Join Creative Good with a 25% discount.
Hope to see you on the Forum.
-mark
Mark Hurst, founder, Creative Good – see our services or join as a member
Email: mark@creativegood.com
Listen to my podcast/radio show: techtonic.fm
Subscribe to my email newsletter
Sign up for my to-do list with privacy built in, Good Todo
On Mastodon: @markhurst@mastodon.social
- – -