What you missed about Google and Amazon

Hey friends –
Something different today. Usually I send you a single column synthesizing my thoughts from the past week (see past columns listed here). But today I'm giving you a sampler of posts from our members-only Creative Good Forum, where I post items daily about what's happening in tech. These daily posts are what you don't see in my weekly columns, but it's a really important aspect of what I do here.
There's a lot going on in tech, beyond the viral headlines, and I strongly believe that we need a place to collect our thoughts – literally. The Forum has separate threads on generative AI, on new surveillance platforms, on self-driving cars, on neural technology, and much more. Organized into those sections, our collective knowledge is available in a form we can search, browse, and refer back to – rather than getting blasted by a firehose of news stories every day.
Our community is growing, and you should be a part of it: we have writers, and coders, and designers, and entrepreneurs, and lawyers, and scientists, and nonprofit directors, and yours truly – all trying, through Creative Good, to make tech better. I hope you'll join us.
Now, a few recent Forum posts, showing what you might have missed about Google and Amazon.
---
1. Google's decline and AI's rise
Someone searched "vermeer" on Google and got back an instant response that was wrong. Wrong squared, really. The search-result screen, shown below, demonstrates both the decline of Google, and the rise of AI's Play-Doh internet.
From Twitter user whatdotcd (May 29, 2023):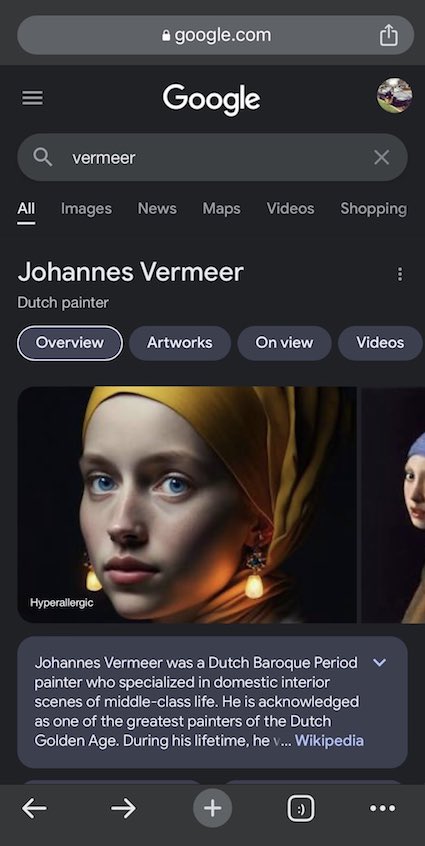 The featured image is obviously not a Vermeer painting. Instead it's an AI-generated extrusion based on Girl with a Pearl Earring.
The tiny text reading "Hyperallergic" is a reference to this story from December 2022, which doesn't include the AI image at all. So Google is giving no indication that this is not, as stated, a Vermeer.
We might be able to identify this right away as an AI work. But as Futurism points out:
remember that not everyone is equipped with the art history knowledge to know what the real "Girl with a Pearl Earring" looks like. Many people searching a painter's name are likely students or people with no familiarity, and many are likely taking Google's featured info at face value. . . . [This] doesn't bode well for our information ecosystem's near future.
As Google continues to spew out whatever sludge will maintain its profits, and as AI startups get more and more venture funding, get ready for a lot more of this to happen.
2. Amazon surveilling bedrooms
FTC Says Ring Employees Illegally Surveilled Customers, Failed to Stop Hackers from Taking Control of Users' Cameras (FTC, May 31, 2023): "Under proposed FTC order, [Amazon] Ring will be prohibited from profiting from unlawfully accessing consumers' videos, pay $5.8 million in consumer refunds."
Emphasis mine:
In a complaint, the FTC says [Amazon] Ring deceived its customers by failing to restrict employees' and contractors' access to its customers' videos, using customer videos to train algorithms, among other purposes, without consent, and failing to implement security safeguards.

According to the complaint, these failures amounted to egregious violations of users' privacy. For example, one employee over several months viewed thousands of video recordings belonging to female users of [Amazon] Ring cameras that surveilled intimate spaces in their homes such as their bathrooms or bedrooms.
I'm not sure that a $5.8 million refund payment will do a whole lot, but at least the FTC is trending in the right direction – starting to document and publicize Amazon's egregious practices.
P.S. Here's the TechCrunch article: Amazon's Ring to pay $5.8M after staff and contractors caught snooping on customer videos, FTC says (May 31, 2023).
3. Amazon illegally surveils kids
As I posted above, Amazon is in trouble for surveilling customers' bedrooms.
Totally separate from that, Amazon – on the same day, May 31, 2023 – agreed to pay tens of millions of dollars for illegal surveillance of kids:
Amazon to Pay $25 Million to Settle Children's Privacy Charges (by Natasha Singer, NYT, May 31, 2023):
"Amazon's history of misleading parents, keeping children's recordings indefinitely, and flouting parents' deletion requests violated" the children's online privacy law and "sacrificed privacy for profits," Samuel Levine, director of the F.T.C.'s Bureau of Consumer Protection, said in a statement. "COPPA does not allow companies to keep children's data forever for any reason, and certainly not to train their algorithms."

The complaint also charged Amazon with deceiving consumers, including parents, by repeatedly assuring users they could delete data, like their Alexa voice recordings, yet failing to adequately honor users' deletion requests.
Of course, Amazon did not admit to any wrongdoing – it just forked over $25 million. Cost of doing business, I suppose. Any chance they'll change their ways?
4. While Amazon gets in trouble for surveillance, it launches more surveillance
While Amazon is getting in trouble for surveilling customers' bedrooms with Amazon Ring, and just payed a $25 million fine for illegally surveilling kids, the monopoly is launching another surveillance platform:
Amazon introduces palm-scanning technology that would let customers buy a beer without reaching for their wallet at the bar, gushes Insider (May 31, 2023).
The pitch is simple. Simply scan your palm print into Amazon, and everything gets better! Imagine a society free of any normal human interaction, as all of the "friction" – that is, human experience – gets hoovered up into Amazon's biometric surveillance cloud:
"Hearing from Amazon One customers across the country, we understand that they love the convenience it delivers: shorter wait times, quick access to buildings and locations, being able to link their loyalty memberships, and now an easy way to grab their beer," John McKay, senior director of food service operations and development for the Colorado Rockies, said.
This is a wedge technology: Amazon is introducing palm-scanning in a limited context – bars and ballparks – where people might be distracted, or inebriated, enough to overlook what's really happening. Once people are habituated to scanning their palms to buy beers, Amazon can widen the wedge and open it up to – who knows? – fast food, then its own Whole Foods, then banks, then your front door.
Imagine having to scan your palm into Amazon's biometric system before you can buy food, check your bank balance, or enter your front door. Yes – imagine the convenience!
No mention in the Insider piece about "Amazon's history of misleading parents" (source) or its "egregious violations of users' privacy" (source).
5. Google brings "convenience" – that is, surveillance – to driver's licenses
One more item about Google. While it's promoting AI fakery in its search results (see the Vermeer example above), like Amazon it's still launching more surveillance products. The Verge reports today that Google Wallet is rolling out support for state IDs this month. "Google Wallet's new features are designed to make it more convenient to use with personal IDs, travel passes, and loyalty or membership cards."
In other words, three U.S. states have made a deal with a deeply unethical tech monopoly to store citizen information. Surely Google will soon move on to the other 47.
Announced today, anyone with a Maryland ID or driver's license can now save their ID card to the Google Wallet app on any phone running Android 8.0 or later that has device lock enabled. Google has been testing digital state ID cards for Wallet since December last year, and Maryland also happened to be one of the first states to bring the feature to Apple's Wallet app for iPhones. The new support for Google Wallet will also be available to residents in Arizona, Colorado, and Georgia "in the coming months," with additional states expected to follow.
We continue our march toward a fully surveilled, fully controlled, fully Big-Tech determined future.
But we can change course, if we want – and if we work together.
---
This was just a taste of what we discuss every day on the Creative Good Forum, our members-only site.
If you want to join me in opposing the rise of Big Tech, please become a member of Creative Good.
Join Creative Good and help us make tech better.
---
Until next time,
-mark
Mark Hurst, founder, Creative Good – see official announcement and join as a member
Email: mark@creativegood.com
Read my non-toxic tech reviews at Good Reports
Listen to my podcast/radio show: techtonic.fm
Subscribe to my email newsletter
Sign up for my to-do list with privacy built in, Good Todo
On Mastodon: @markhurst@mastodon.social
- – -