A few more inspiring people

For my final update of the year, I wanted to share a few encouraging pointers. I hope to ring in the holidays on a high note, while acknowledging that there's still much to be done to "make tech better."
A tech book – with joy?
First: On this week's Techtonic I was happy to speak with Rachel Ignotofsky – and her husband and business partner Thomas Mason – about her new book, The History of the Computer. (Here's the episode page and the podcast.) Designed for all ages, from middle school to adults curious about the subject, the book is full of Rachel's beautiful hand-drawn illustrations showing the various iterations of the computer: the Sumerian abacus, the Jacquard loom, the dawn of the transistor, all the way to the current era of manipulative platforms and clueless billionaires.
Some of Rachel's drawings are really detailed. Look at Babbage's Difference Engine, which she said caused some carpal-tunnel pain: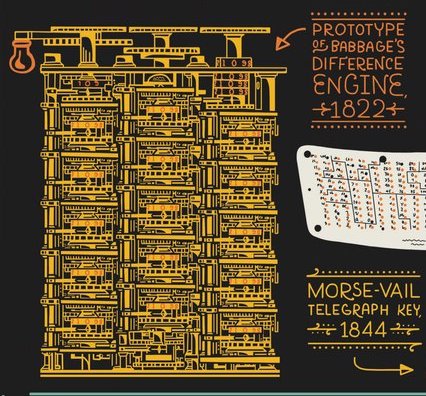 The book exudes Rachel's sheer joy at creating: it's evident that she and Thomas love designing books – The History of the Computer is Rachel's sixth – and her enthusiasm comes through both on the page and in our Techtonic interview. It was in her honor that I closed out the show with this video of a Japansese ensemble playing over 100 theremins, in unison, to Beethoven's Ode to Joy.
When was the last time computer history brought us "joy"? But Rachel pulls it off.
For any fans of my late Uncle Mark Gift Guide, Rachel's book would make an excellent holiday gift. You can buy it here.
The Luddite Club
There's joy outside of computers, too. I loved this article in yesterday's New York Times: 'Luddite' Teens Don't Want Your Likes (Dec 15, 2022). As I wrote on the 🔒Creative Good Forum . . .
A group of Brooklyn high school students have started the Luddite Club. The founder, Logan Lane, describes what happened after she got tired of endless social media anxiety and "put her phone in a box":
For the first time, she experienced life in the city as a teenager without an iPhone. She borrowed novels from the library and read them alone in the park. She started admiring graffiti when she rode the subway, then fell in with some teens who taught her how to spray-paint in a freight train yard in Queens. And she began waking up without an alarm clock at 7 a.m., no longer falling asleep to the glow of her phone at midnight. Once, as she later wrote in a text titled the "Luddite Manifesto," she fantasized about tossing her iPhone into the Gowanus Canal.
Lane says her parents are "so addicted" to Twitter, while she's OK walking around with a flip phone.
There's hope for the next generation!
Good game design
My friend Eric Zimmerman was on Techtonic on December 5 (episode page / podcast) talking about his new book, The Rules We Break, which offers a set of exercises and mini-essays about designing games and other systems. Anyone who works with teams, workshops, community-building, or other systems design – or game design, for that matter – will find this a helpful resource. You can buy it here. (But listen to the show first.)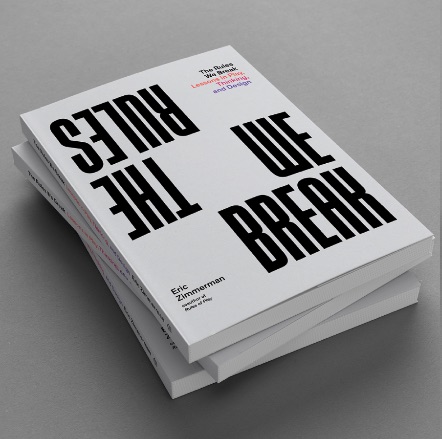 Much like Rachel Ignotofsky, the interview with Eric Zimmerman shows someone with passion and enthusiasm for making things, for encouraging people, for building community. Inspiration like this is especially helpful in our time of increasing tech dystopia. Some days it seems like all the power and influence is flowing to people who want to use tech to tear down our society. But all is not lost. As I wrote last month in A future for people doing good work, I'm heartened by projects and organizations trying to make tech better. Whether it's teen Luddites who avoid computers, or a designer who makes games for computers, or an illustrator hand-drawing images about computers – the world needs more people like these.
For my part, I'm trying to bring together some of those people, building a community to make tech better here at Creative Good. You can join here. (And if you'd like to purchase a Creative Good membership as a gift, email me.)
Finally, to give a sense of what we've been discussing in the past week . . .
Creative Good Forum, from the past week
There's a lot on the Forum recently. It's a great place to keep up with tech, outside the boosterism of the tech media, and it's only for Creative Good members. Here's what's up:
• 🔒Celebrities and the FTX blowup (two posts, well worth reading)
• 🔒AI image generators: several posts and a couple of fun items
• 🔒Thoughts on ChatGPT, which as I've said before: if you haven't read up on ChatGPT, this is important to know about. Read the 🔒whole Forum thread.
• Back in August I wrote Waking up to the genetic surveillance state. In the column's 🔒Forum thread, I've been posting updates. Most recently, and well worth a look, I posted a link to Andrea Flink's report on direct-to-consumer DNA tests in West Side Rag.
• 🔒Badly designed gender forms, in the "This Is Broken" category
• In our massive 🔒Articles of Note thread: upcoming surveillance gear, ChatGPT summary, self-driving Teslas in downtown Toronto, and rising cyberattacks on hospitals.
• In the increasingly massive 🔒New and improved surveillance thread, I posted links to two pieces worth checking out: first, from the Markup, Dozens of Telehealth Startups Sent Sensitive Health Information to Big Tech Companies; and second, from Northeastern University, a headline that portends our dystopian future: Students rebel against heat-sensing crotch monitor surveillance devices.
Perhaps inevitably, there were several updates on Elon Musk's recent misadventures:
• 🔒Space junk from Musk's SpaceX is causing problems – and more launches are on the way (two articles)
• 🔒Sites commenting on Musk's behavior (two articles)
• 🔒Musk's brain-chip company is under investigation – even as another bio-implant company shows the risks of bionic gear (two articles)
• 🔒Thoughts on Musk's Twitter purchase and his shutdown of the "Elon Jet" account (which is now back up, on Mastodon)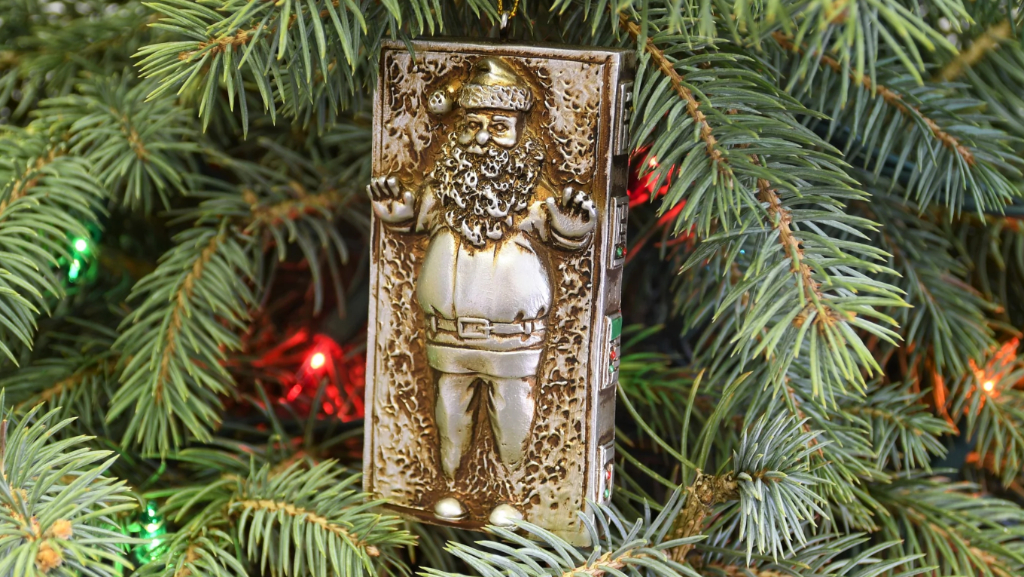 Wishing you a happy and healthy holiday season. See you in 2023!
-mark
Mark Hurst, founder, Creative Good – see official announcement and join as a member
Email: mark@creativegood.com
Read my non-toxic tech reviews at Good Reports
Listen to my podcast/radio show: techtonic.fm
Subscribe to my email newsletter
Sign up for my to-do list with privacy built in, Good Todo
Twitter: @markhurst
- – -