Scary Silicon Valley: A Halloween update on Big Tech

As Halloween weekend starts, I thought I'd give an update on the scariest companies of all: Apple, Google, Facebook, and Amazon.
But first, a comment on Twitter. What a way to go into Halloween, with the Technoking of Tesla in charge. As people stream for the exits there – both users and employees – here at Creative Good we're building a better alternative, on our Forum: discussing the news, posting resources, answering questions, and generally building a community trying to live in a tech-dominated society.
I want you to join. The Forum has a super-high signal-to-noise ratio, access to all my premium Creative Good and Good Reports content, and – why not? – I'll throw in a premium Good Todo account as well. All for $100 for a year. Click here to join.
And now, updates on the Scary Four, as I posted them on the Creative Good Forum this week.
---
Apple turns into an ad company (via the Forum)
What happens when you're a 2-trillion dollar company selling overpriced hardware, and you're deeply entwined with your Chinese Communist Party sponsor providing deregulated, low-cost (in some cases, enslaved) labor to juice your margins – and then because you've used monopoly tactics to kill off all the innovation in your space, things go stale and growth starts to dry up?
In other words, what happens if you're Apple today? Well – you certainly don't start reconsidering how you exploited developers and squeezed the vitality out of the Apple ecosystem. Nah. Instead, you do what Google did, when it faced a similar crisis in the dotcom bust, when growth started to dry up.
Just as Google did, Apple is now doing. They're looking to advertising to eke out a few more quarters of growth at any cost.
Apple Is an Ad Company Now, writes Wired UK (Oct 20, 2022):
Apple has sold ads inside Apple News and the App Store since 2016 but in recent months has shown a new determination to muscle into an industry dominated by Google, Meta, and Amazon. In June, Apple expanded the ways companies could pay to get in front of its customers' eyeballs, allowing them to buy ads on the front page of the App Store. In August, Apple job postings suggested it was building a self-service platform for businesses to book ads to be served to customers through Apple products. This month, reports surfaced that Apple was courting potential buyers for ads on Apple TV+. What form those ads would take, such as pre-roll spots like those on YouTube or traditional TV commercials, is unclear.
Those moves all suggest Apple's users will begin to see more ads inside its services and that the company will shift into more direct competition with ad-supported rivals such as Google and Meta. If you know anything what powers the online ad business, you know what's coming next: intrusive surveillance of users without their knowledge or consent.
Like the song says, "Hello Siri my old friend / you've come to spy on me again."
---
Facebook Spies on Hospital Patients (via the Forum)
Facebook spied (and may still be spying) on millions of American hospital patients. Senator Mark Warner is investigating, as reported by The Markup (Oct 20, 2022): Senator Questions Zuckerberg About Facebook's Collection of "Sensitive Health Information".
"I am troubled by the recent revelation that the Meta Pixel was installed on a number of hospital websites—including password-protected patient portals—and sending sensitive health information to Meta when a patient scheduled an appointment online," Warner wrote in a letter to CEO Mark Zuckerberg, citing a Markup investigation that revealed at least 33 top hospitals and seven health systems were sharing patient information through the Meta Pixels embedded on their websites. He also cited another Markup investigation that found the Meta Pixel collecting sensitive data from forms on the federal student aid website.

In an email to The Markup, Warner said, "Meta's collection of user data without their knowledge or consent is wrong and begs the question—what is Meta doing [with] the information they are collecting?"
I fully support what Senator Warner is doing here (though the misuse of "begs the question" is irritating).
Also, this has been going on for awhile. See Pixel Hunt, a project by The Markup to monitor Facebook's healthcare spying operation.
(Listen also to my Techtonic interview with Nabiha Syed, president of The Markup, on the March 1, 2021 episode: stream the interview, download the podcast episode, or see the episode page and links.)
---
Google caught spying on citizens (via the Forum)
Texas is suing Google for spying on citizens: Texas Sues Google for Collecting Biometric Data Without Consent (NYT, Oct 20, 2022).
Ken Paxton, the state's attorney general, said Google had violated a state consumer protection law that requires companies to inform citizens and get their consent before capturing their biometric identifiers, including fingerprints, voiceprints and a "record of hand or face geometry."

Violators of the law face fines of up to $25,000 per violation. Mr. Paxton said Google had millions of users in Texas who were potentially affected.

"Google's indiscriminate collection of the personal information of Texans, including very sensitive information like biometric identifiers, will not be tolerated," Mr. Paxton said in a statement. . . .

The complaint targets the Google Photos app, which allows people to search for photos they took of a particular person; Google's Nest camera, which can send alerts when it recognizes (or fails to recognize) a visitor at the door; and the voice-activated Google Assistant, which can learn to recognize up to six users' voices to give them personalized answers to their questions. Mr. Paxton said the products violated the rights of both users and nonusers, whose faces and voices were scanned or processed without their understanding or consent.
The mouth of Sauron, issuing a press release from Google, replied that the Texas attorney general is "mischaracterizing our products in another breathless lawsuit."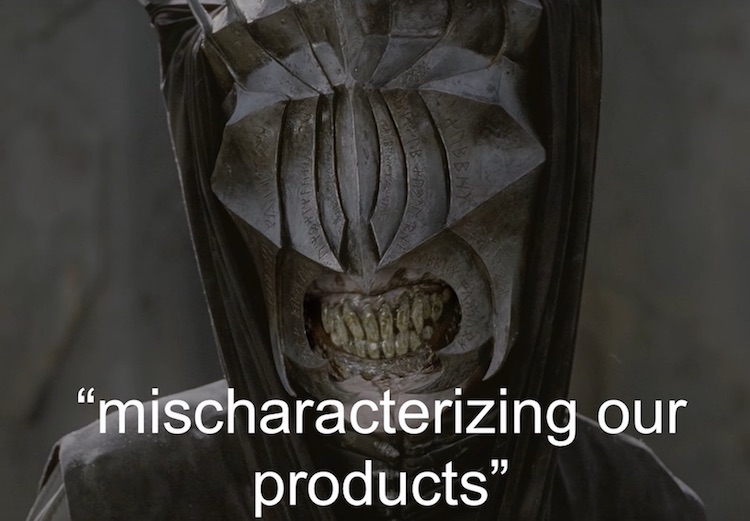 I'm eager to see how this is "mischaracterized." Did the citizens of Texas actually give consent to Google, and the Texas AG missed this point? I'll also be interested to see how this lawsuit qualifies as "breathless." As though it's just a dreamed-up fantasy that Google spies on citizens without their consent?
P.S. More detail on the complaint, pointed to by Mike Swift, here and here:
A little more detail about the Texas suit against Google. It alleges three key products – Google Photos app, the Google Assistant and Google Nest Hub Max – violate the Texas Capture or Use of Biometric Identifier Act – CUBI.
---
Amazon's army of spy devices for the home (via the Forum)
Good roundup of Amazon's spy devices for the home (by Geoff Fowler in the Washington Post, Oct 12, 2022). From Tour Amazon's dream home, where every appliance is also a spy:
You may not realize all the ways Amazon is watching you. No other Big Tech company reaches deeper into domestic life. . . . Amazon now makes (or has acquired) more than two dozen types of domestic devices and services, from the garage to the bathroom.

. . . It's also a surveillance nightmare. Many of Amazon's products contribute to its detailed profile of you, helping it know you better than you know yourself.
Devices mentioned:
Echo speaker
Ring doorbell
Fire TV or Omni TV set
Kindle or Fire Tablet
Smart lights, switches or shades integrated with Alexa
Halo band
Echo Show
Echo Auto
Garage door with Alexa or Amazon Key integration
Eero WiFi router
Roomba vacuum cleaner
Toilet with Alexa integration
Ring camera and spotlight
Ring security system
Echo Frames
Ring Always Home Cam drone
Halo Rise
Smart Soap Dispenser
One Medical membership or Amazon Pharmacy
Dash Smart Shelf
Whole Foods
Smart Air Quality monitor
Basics Microwave
Smart Thermostat
Astro robot
Read the story: Tour Amazon's dream home, where every appliance is also a spy
As Aram Zucker-Scharff put it on October 19:
Never forget that if the trajectory of all internet-touching companies is to become ad systems then the truth is that all companies are just masquerading as one thing until they reveal they're surveillance companies.

This is how surveillance capitalism fundamentally works.
Zucker-Scharff was responding to a post by Chris Gilliard – a Creative Good member! – who recently wrote a piece for the Atlantic that should be studied by anyone who owns an Amazon spy device: The Rise of 'Luxury Surveillance' (October 18, 2022). Gilliard writes that Alexa-enabled spy devices "are best understood as mechanisms of control: They gather data, which are then used to affect behavior. Stripped of their gloss, these devices are similar to the ankle monitors and surveillance apps such as SmartLINK that are forced on people on parole or immigrants awaiting hearings."
Scary stuff indeed.
Though maybe not as scary as "Chuckerberg"...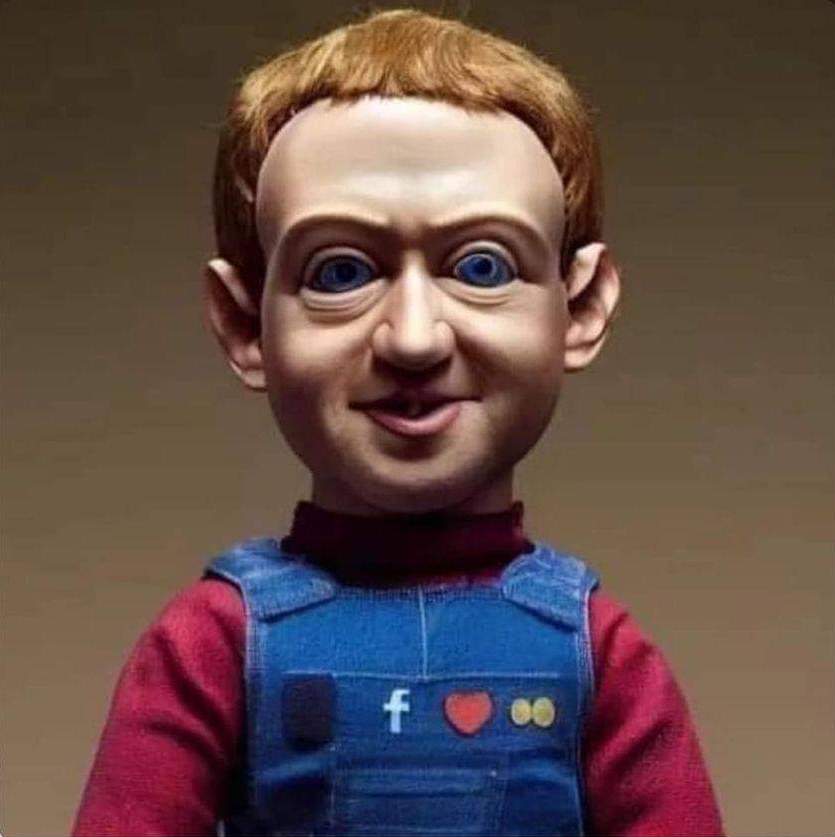 We've had enough of Big Tech ghouls. We're building a better community at Creative Good, and you should be a part of it. Click here to join Creative Good.
Until next time,
-mark
Mark Hurst, founder, Creative Good – see official announcement and join as a member
Email: mark@creativegood.com
Read my non-toxic tech reviews at Good Reports
Listen to my podcast/radio show: techtonic.fm
Subscribe to my email newsletter
Sign up for my to-do list with privacy built in, Good Todo
Twitter: @markhurst
- – -